Nationally Recognized Bariatric Service You Can Count On
Nobesity Bariatric & Fitness Hospitals has 41 National and International awards and recognition to its credit. We were conferred with the title of "Best bariatric center of excellence in India" by Obesity & Metabolic Surgery Society of India. This is among many other recognition's of both International and National prominence including Excellence in Bariatric Surgery by Icons of Healthcare, White coat Wizards Medical Pioneers by the Times of India, Zee young Achievers Gujarat 2017 by Zee.
Our Bariatric expert, Dr. Manish Khaitan is one of the best bariatric surgeon in India. He is also an International Member of ASMBS, was awarded as Bariatric Surgeon of the year 2016 by IPSA, The Most Admired Bariatric Surgeon in India by NABL 2017 and many other notable awards and recognition's.
Located in the city of Ahmedabad, Nobesity has successfully performed more than 4000+ successful bariatric surgeries. Right from inception, we have been delivering world-class care with patient safety and satisfaction at heart and our services have never been stronger than they are today.
May 01, 2019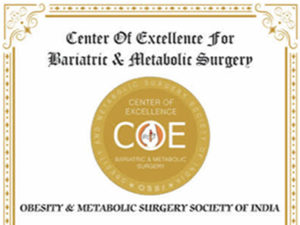 CENTER OF EXCELLENCE AWARD
Nobesity has been recognized as Center of Excellence for Bariatric and Metabolic Surgery by Obesity & Metabolic Surgery society of India which confers to the KD Hospital Ahmedabad and Program Director for Nobesity is Dr. Manish Khaitan.
March 24, 2019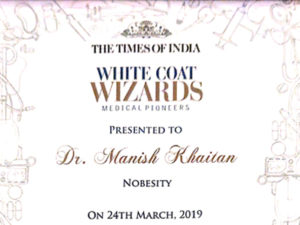 WHITE COAT WIZARDS,MEDICAL PIONEERS
Dr.Manish Khaitan was awarded with White Coat Wizards,medical pioneers by the Times of India on 24th March 2019.Director-Response for the Times of India was Sameer Sainani.
January 24, 2019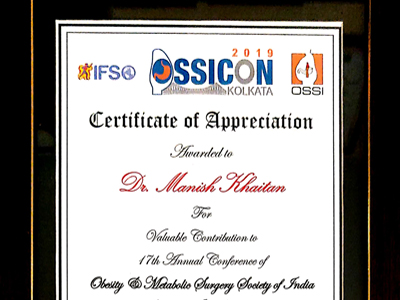 OSSICON,KOLKATA
Dr. Mansih Khaitan has been awarded in regards to Certification of Appreciation for Valuable Contribution to the 17th Annual conference of Obesity and Metabolic Surgery Society of India which is held at Hotel westin,kolkata.
December 17, 2018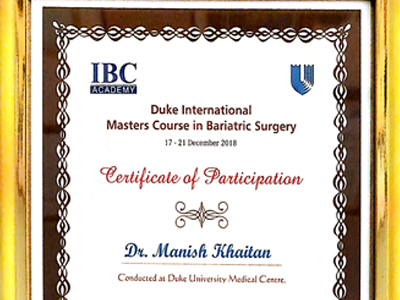 DUKE INTERNATIONAL MASTER COURSE IN BARIATRIC SURGERY
Dr. Manish Khaitan has certified for participating in Duke International Master Course in Bariatric Surgery which is conducted at Duke university Medical Centre.This is Jointly Organised by IBC Academy & Duke Division of Metabolic and Bariatric surgery.
2018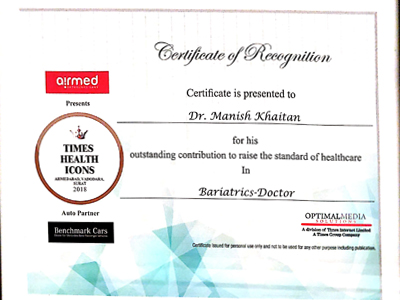 TIMES HEALTH ICONS
Dr. Manish Khaitan was Certified with the Recognition for outstanding contribution to raise the standard of healthcare in Bariatric Doctor by the Times health Icons, Ahmedabad, vadodara,Surat.
September 04, 2017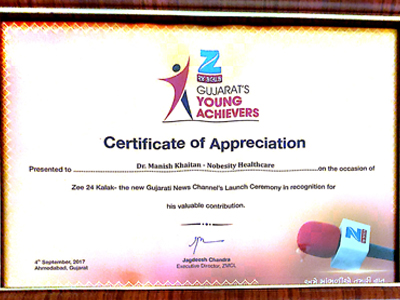 GUJARAT'S YOUNG ACHIEVERS
Dr.Manish Khaitan-Nobesity Healthcare has been Appreciated with the Certificate on occasion of Zee 24 kalak-the new gujarati news channel's launch ceremony in recognition for his valuable contribution by Gujarat's Young Achievers.
September 01, 2017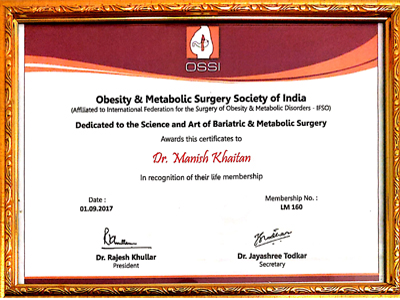 DEDICATED TO THE SCIENCE AND ART OF BARIATRIC & METABOLIC SURGERY
Obesity & Metabolic Surgery Society of India has awarded Dr. Manish Khaitan as Dedicated to the Science and Art of Bariatric & Metabolic Surgery in recognition to their life membership.
August 07, 2017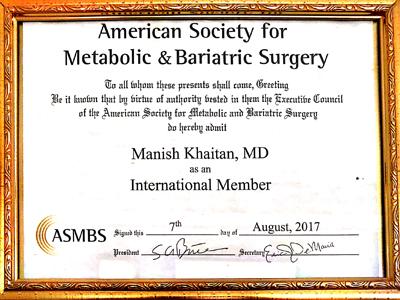 AMERICAN SOCIETY FOR METABOLIC & BARIATRIC SURGERY
Dr. Manish Khaitan has been awarded as International Member for Bariatric & Metabolic Surgery by the executive council of the American Society for Metabolic & Bariatric Surgery.
July 21, 2017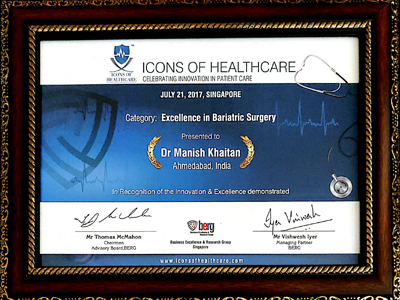 ICONS OF HEALTHCARE
Dr. Manish Khaitan was awarded as Excellence in Bariatric Surgery in recognition of the Innovation & Excellence demonstrated by ICONS of Healthcare celebrating innovation in patient care.
2016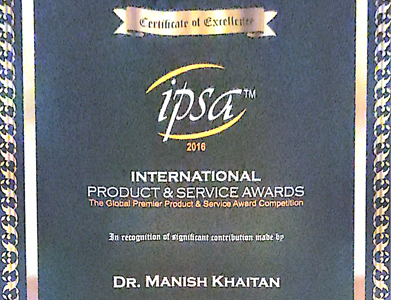 IPSA
IPSA has awarded Dr. Manish Khaitan as Bariatric Surgeon of the Year at International Product & service awards(the global premier product & service awards competition) recognizing as a Healthcare Leader of Excellence.